If you've ever considered performing an automotive repair that involved replacing a bushing, bearing, universal joint, or pulley - but couldn't because you lacked a hydraulic press to force components apart, we can get you equipped with one at a much lower cost than you'd expect. Then, you'll be the person who gets the job finished instead of waiting until the nearby shop opens for assistance.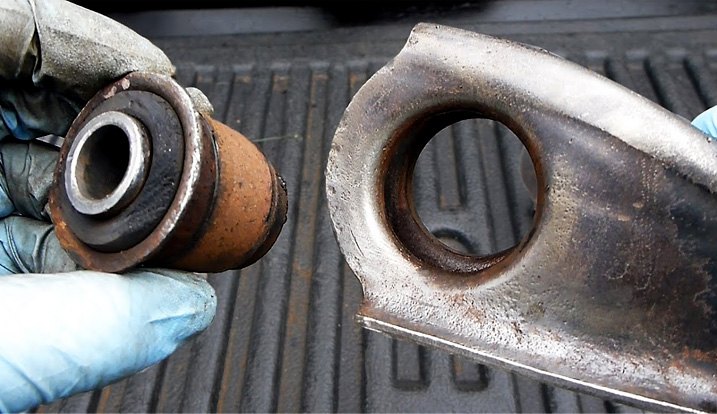 You may never have considered buying a hydraulic press for your own garage because you assume they cost thousands of dollars. While it's true that many do, it's important to note that such presses are built to extreme heavy-duty standards. This allows them to withstand constant, day-in-day-out use professional shops put them through. They're also designed to work at high speed thanks to other, more powerful sources of hydraulic pressure found elsewhere in the shop.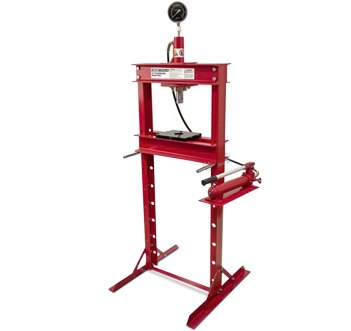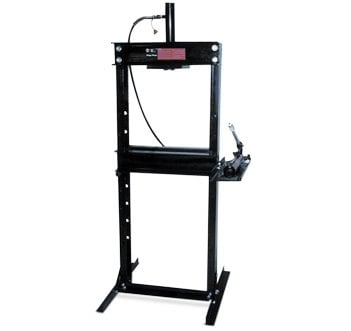 To address the needs of the do-it-yourselfer at home, we've got sturdy hydraulic presses that can deliver up to 25 tons of pressure for only hundreds of dollars, not thousands. Primarily, their lower cost results from the mechanical simplicity of using a built-in hand pump to pressurize a smaller, single hydraulic cylinder. While you may give up multiple pistons and high-speed operation, you can still expect many years of trouble-free use in your own garage thanks to sturdy construction that includes durable seals and fittings.
In this article, we touch on three unexpected and useful things you can also do with any hydraulic press at home, and we'll look at some value-priced hydraulic presses.
Separating Rusted Parts
Parts that become corroded have chemically broken down due to oxidation. As this chemical restructuring occurs, metal literally "grows" into a different shape. Unfortunately, this kind of growth also causes parts to fuse together. If you've ever tried to free a rusted nut from a bolt, you understand.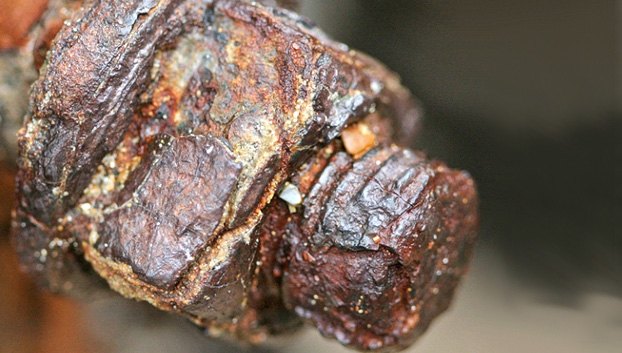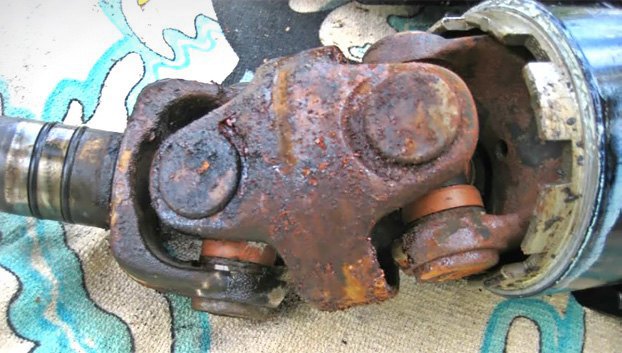 Whether it's exhaust sections, wheel hubs, or anything stuck together - if you can get things off the vehicle, a hydraulic press can get them separated easily. Spraying all parts with lubricant such as WD-40 first will help, along with hammer taps for creating shock waves to weaken the bonds of corrosion.
Straightening Bent Parts
Whether it's a bent shaft, control arm, steering linkage, or other component, a hydraulic press can apply pressure to straighten things out. With proper support under a bent part and the right fittings at the end of the press rod, applied pressure can be spread out or concentrated as necessary.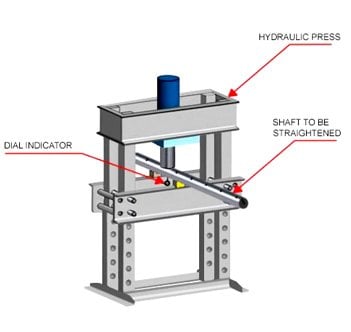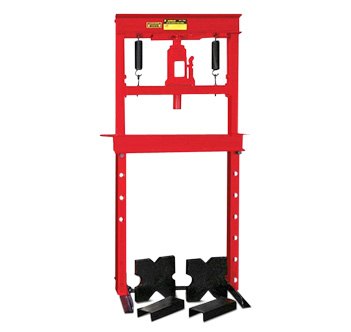 To determine how much warpage ("runout") exists on any part that rotates, we'd recommend an indicator gauge with a needle at the end. As you rotate the component manually, that needle will move in and out over uneven metal. This will provide an accurate assessment of your straightening results.
Compressing Used Oil Filters
A press rated for 10 tons or more can crush a typical passenger car oil filter down to 1/4th of its original size. Doing this can return a number of benefits for individuals and businesses.
First, virtually every bit of fluid left in the filter will be squeezed out quickly and easily. By containing this extra waste oil instead of throwing it out, you'll be significantly protecting the environment.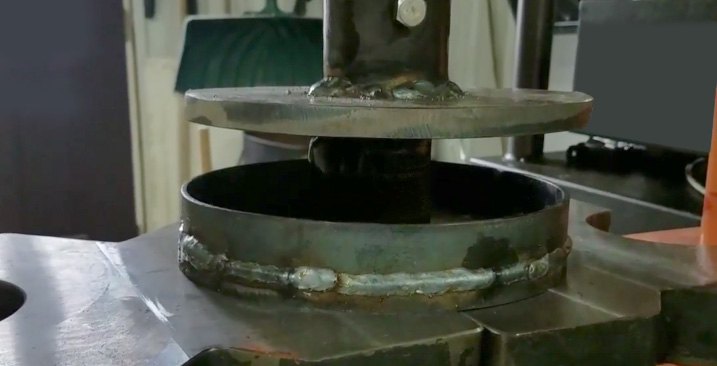 Secondly, if you've got a commercial shop or business that generates used oil filters, complying with United States environmental regulations regarding disposal is essential. Because some engine and transmission oil filters can contain up to a pint of fluid that doesn't drain easily, many state governments require draining of old filters for 12 to 24 hours. Crushing such a filter on a hydraulic press gets that fluid out instantly.
Crushing used oil filters also offers return on investment when you consider extra waste oil can be sold for as much as a dollar per gallon. Scrap steel also has value, and scrap traders will pay more for compacted, drained steel filters because they take up less room and create less mess.
If you plan on crushing filters for agricultural and heavy diesel truck engines, we'd recommend a press rated for 20 tons.
Hydraulic Presses We Offer For Home Use
We've got great values on 12-, 20-, and 25-ton hydraulic presses that use a manual pump handle to increase pressure. Designed for floor mounting, these take up a minimum of garage space. All are height-adjustable as well. Whenever possible, we've included overall dimensions on individual product pages.
Additionally, we note the amount of "ram travel" when manufacturers specify it. This is the length of up-down travel of the pressure unit (and contact point). Ram travel may vary, so make sure to select a press that allows clearance for the items you'll be repairing.
We've got 12-ton presses from OEM Tools, ATD, Sunex, Omega Lift Equipment, AFF, and OTC (available in 12- or 20-ton configuration). Moving up to 20-ton units, we've got manually operated ones from Astro Pneumatic Tool, ATD, AFF, and OEM Tools. If you've got an air compressor at home, we also offer the OEM Tools 20-Ton Air Hydraulic Shop Press with Gauge that gives you a choice of building pressure with a hand pump or compressed air line.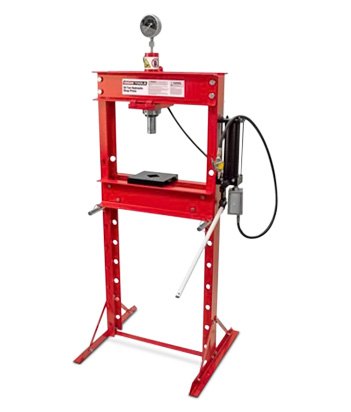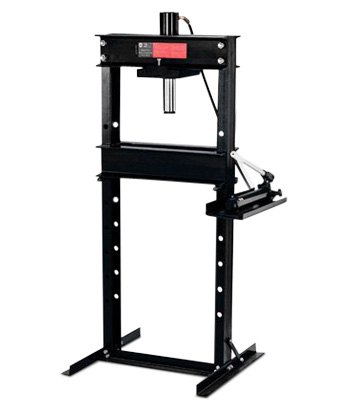 If you still need more pressure, we've got 25-ton hydraulic presses from Omega Lift, Hein-Werner, and ATD.
In this article, we've called out three of the less common uses for a shop press: separating rusted parts, straightening bent ones, and crushing oil filters. Of course, you can also use the press for all your "standard" press-on and press-off jobs. There's really no limit to the number of automotive and household items you can repair and adjust!
July 10, 2017