Home mechanics invest time and money building up their collection of tools and supplies for their workshop. This process moves very quickly for some, and takes longer for others. Hand tools, electric power tools, tool boxes, a work bench, jacks and jack stands, specialty auto tools, all are accumulated so that she or he has 'everything' needed to work on the family vehicles, as well as take care of various tasks around the home and yard.
It is a surprise to learn how many of these talented DIY'ers presume that a home air compressor is outside their reach. Whether they think it is budget, or installation, or room, it never enters the shopping list. There's also the factor of all the air-powered tools one needs.
Let this article serve as a guide for you to demonstrate that not only is a home air-compressor affordable, it's easy in so many other ways too. And we guarantee this: once you have one, you will wonder how you ever got along without one.
Picture this: you have a half-dozen "power" tools. Each of them either has a power cord to plug into a wall outlet, or is battery-powered. You are working on a complex project which requires that many of these tools be available simultaneously. You already have used up all the available outlets nearby, and have taken to running an extension cord with a power strip, just so you can plug more than one tool at a time. Both of your cordless tool batteries are running low, and you have only one charger, which of course is using a spot on your extension cord. You're tired of plugging and unplugging tools, and you've been running both batteries down to the point of complete discharge. The bottom line is that you are in danger of postponing work on the project while you wait for batteries to recharge.

Here's an alternative scenario: you have a half-dozen "air" tools and an air compressor. The compressor is plugged into the wall, using one outlet. The 50-foot-long hose on the compressor gives you lots of range for your project. Switching from one air tool to another involves about 10 seconds to use the quick connect at the end of the hose. The compressor only occasionally cycles "on" to add air to the tank, and all your tools are available to work at any time.
This alternative provides one of the clearest reasons why serious hobbyists and professionals prefer air driven tools: you have one "motor" (the compressor) powering an entire series of tools, none of which have their own motor, so they are lighter and less expensive. There is no need to run extension cords or recharge batteries, and changing from tool to tool literally takes a few moments. You also get increased power and torque from many air tools compared to their electric versions.
Compressors are handy for simple tasks, like filling up car tires and inflating portable toys. The air adapters, or "chucks", are inexpensive and easily found. Moving up from here, compressors can drive nails, tighten and loosen bolts, grind metal, sand wood, and spray paint. Let's review the choices you will need to make when selecting a compressor.
Air Compressors Options
When you're ready to buy, you will find the widest selection of air compressors at our website. Here is where you'll be making some decisions as you weigh your options: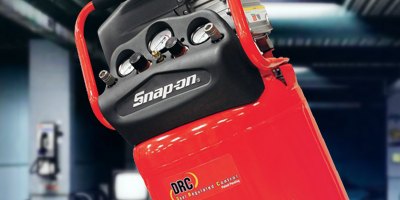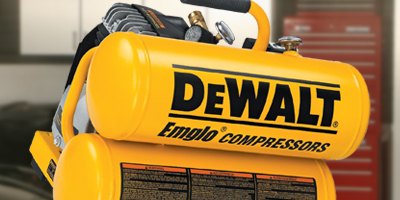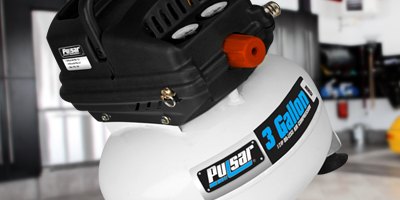 Electric or gas: Gas-powered compressors, which are on the high end of the price scale, are for professional contractors who cannot rely on the availability of electricity on the job site. The gas-powered job means that as long as the worker is carrying fuel, there will be compressed air. However, because this requires a running engine, noise and exhaust are factors. Ingersoll Rand's 14 HP 30 gallon air compressor is gas-driven. The vast majority of home workshops choose an electric compressor. This Trades Pro 2 gallon compressor is one of the more affordable units we sell. The next decision becomes:
110-120 Volt or 230-240 Volt: Compressors running on 110-120V (household current) are no different than most any kitchen appliance: just plug it in and turn it on. This Pulsar 2 gallon horizontal twin tank compressor runs on 120 volts. The 230-240V units will put out more power, but, you will either need to have a 230-240V outlet near the compressor, or, you will need to call in an electrician to install one. If you do decide on the 230-240V unit, be sure to include the electrician's cost in your price equation. The Ingersoll Rand 5 HP 60 gallon compressor runs on 230 volts.
Compressor tank shape: Here, your choices include "pancake", "twin tank", "horizontal", and "vertical". The pancake design is portable and features a low center of gravity, so it minimizes the chances of it tipping over. The twin tank jobs double your air capacity with minimal additional space for a portable unit. The horizontal tanks usually have a handle on one end and two wheels on the other, and are the easiest to roll from spot to spot. The vertical tanks , while top heavy, minimize the need for floor space and give you maximum tank capacity in a direction that most folks have room for. Tied very closely to the tank shape decision is:
Stationary or portable: In general, the smaller units are considered portable, and the larger ones are not (now that's an obvious statement!). Look for wheels and a handle on the larger portable compressors. Think about where you plan to set up the compressor, then think about where most of the work will occur. The tradeoff for portability is a compressor that constantly runs to keep up with air demand, or may not be powerful enough to run your tools. The larger stationary units deliver the most amount of air, so long as you have an air hose that will reach the job at hand.
Oil-free or oiled: There has been a recent trend promoting the "oil-free" compressor as the better choice. It certainly has its advantages: these units are practically maintenance-free. The trade-off for us is noise, as an oil-free unit is noticeably louder. An oiled unit cuts the decibels, but requires maintenance, just like a car. The oil level needs to be checked, and the oil changed, at regular intervals. If you will run the compressor only occasionally and/or know that you are not good about keeping up with maintenance requirements, the oil-free compressor is a good choice.
Gallons / Horsepower / CFM: All three of these measure "power". If money is no object, just get the largest, most powerful compressor you can, putting out the most CFM (cubic feet per minute) of air. Of course, that suggestion does not work for 99% of us. The gallon size of the tank tells you how much compressed air "in reserve" you can have. The larger this figure, the more air is ready and at your service before the motor kicks in to compress additional air. The horsepower helps tell you how quickly the motor can fill and refill the tank. You can narrow your search for gallon size and horsepower rating by using the Refine Search menu on the left side of the screen. For us, the most important of these number is the CFM (cubic feet per minute) measurement. Why? Because, ALL air tools are rated based on their minimum CFM. If you take away nothing else from this article, learn this: your compressor must produce the CFM rating equal to or greater than the minimum CFM required for your tool, or the tool will not function.

Let's create two fictional workshops, one a starter type of set-up, and the other more of an upgrade for someone who has had an air compressor and has decided he/she needs more power.
First, the simple shop: you just got an Ingersoll Rand air ratchet, and an S&G Tool Air caulking gun. We know that the ratchet requires 3 CFM @ 90 psi, and the caulking gun needs 4 CFM @ 50-70 psi. The Pulsar 5 gallon twin tank compressor puts out 5.2 CFM @ 40 psi, and 4.2 CFM @ 90 psi, so we are well within our needs for these two tools.
The biggest reason that the do-it-yourselfer replaces a home air compressor is not because the compressor goes bad. It's because of the realization that more air power is needed. After some time, you've added a 1/2" drive air impact wrench from Ingersoll Rand, and a Kawasaki air sander. The sander consumes anywhere from 5-8 CFM @ 90 psi; the wrench needs a minimum of 4.3 CFM @ 90 psi. So we need a compressor with a little bit more oomph. The Pulsar 28 gallon vertical compressor produces 6.2 CFM @ 40 psi, and 5.2 CFM @ 90 psi, a healthy increase compared to the earlier Pulsar unit we discussed. This amount of air power will also get the job done for our impact wrench and sander.
You can always go bigger. Ready to play with the big boys? A compressor that will run anything you throw at it is this Ingersoll Rand unit, a two-stage, cast iron, 5 HP, 60 gallon air compressor. While its price is multiple times the previous two Pulsar units, it's still hundreds of dollars below the massive gas-powered compressors. This unit produces a max of 14.7 CFM at a max of 175 psi. You simply will not run out of air power with this in your garage, unless you have a team of 6 workers simultaneously running air tools, in which case you are well beyond the typical home workshop set-up.
As you see from these examples, the choice of compressor is really driven by the power you need for your air tools. The purchase of a stationary, 60 gallon, 240V unit is true overkill if it's going to be used to blow up tires and kiddie pools. The converse may be worse: a 2-gallon baby ultra-compact unit just won't move enough air to allow the typical air sander or grinder to work. We would strongly recommended some thorough research before answering the question: "what kinds of air tools am I likely to buy, either today or in the near future?" Decide on the tools first, and you will be guaranteed to be happy with the choice of air compressor.